The neon lights of the Denver Diner shine on August 1, 2018.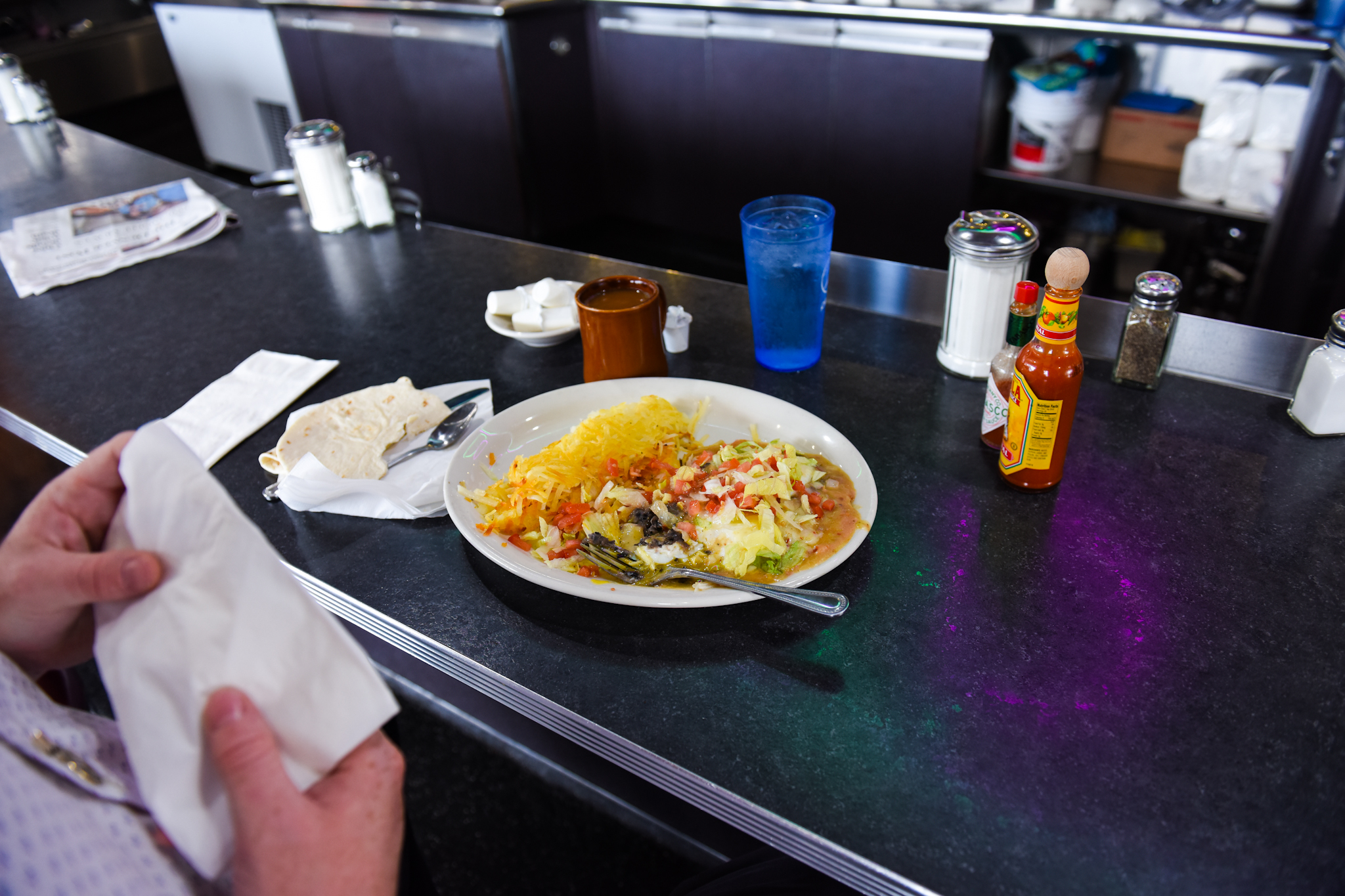 Noon: An out-of-towner, Drew, prepares to eat huevos rancheros. He recently moved from Los Angeles to Asheville, North Carolina, and was in Denver to see his friend's store, Grassroots Colorado, but first stopped at the diner for lunch.

1 p.m.: A manager, Kosta Skordos, left, jokes around with diner regular Cleo on his way out.
Patrons finish up lunch at the diner.
2 p.m.: Michael and Phyllis Marquez had their first date at the Denver Diner in 1971. On August 3, 2018, they celebrated their daughter Valerie's birthday at the restaurant.
3 p.m.:The Denver Diner gets quiet around this time of day; only a few individuals sit at the bar.
4 p.m.: A chocolate milkshake, made by one of the diner's managers, Myrissa Adams, and fries. Myrissa has worked at the Denver Diner since October 2017.
5 p.m.: Jim Gumpert, 76, is originally from Kansas City but moved to Denver in 1982. Gumpert lives in Lakewood but prefers the diner to other late-night options. "Of places from the '80s, the Denver Diner still has an atmosphere. There's a mix of people here," he says. Gumpert manages a few properties and prefers to come to the diner to do his work.
6 p.m.: Lauralei Holliday has worked at the Denver Diner for a few months. Holliday is a Denver native and has been a server at many spots in the area, including Great Scotts and Tom's Diner, and remembers wanting to work at the Denver Diner. "This was the mecca for me. The location, the hours," she says.
7 p.m.: Members of the Marquez family (Alyssa, left, Chris and Cynthia) order their food, with Alyssa splitting her parents' entrees. They live in Albuquerque but come to the diner when they're in Denver. They'll drive back to New Mexico after their meal.
8 p.m.: Myrissa Adams, left, and Holliday watch one of two large TVs above the bar.
9 p.m.: Purple, green and pink neon lights shine from 740 West Colfax Avenue.
10 p.m.: Friends gather around a table. All are originally from Minnesota, but four currently live in Colorado.
Alexis Bustilles sits at a table with two friends. Bustilles lives in northern Colorado but came to Denver for an event on Friday, August 3.
The reflection of a group at a table digging into their food.
11 p.m.: Chase Orme takes a bite of chocolate chip pancakes.
Midnight: A patron celebrates his birthday with a piece of pie and an improvised French fry candle, while his table and a waitress sing "Happy Birthday."
Kaitlyn "KDubbs" Williams walks into the diner with a group of friends.
1 a.m.: Server Heather Blanchet rushes plates to a table.
Officer Adam Foisy stands behind the counter at the Denver Diner. Every weekend, a police officer comes to the diner after midnight.
2 a.m.: Lauren Busher (back right), Jennifer Riley (front right), Lazarra Leonard (back left) and Liz McCarthy (front left) sit down for late-night food. Riley, the only one in the group who lives in Denver, says, "If we want food after 10 p.m., I know where we're going."
Adam Pardo and Savannah McClease wait for a table.
3 a.m.: Lyfts, pedicabs, patrons waiting for tables and a motorcycle cluster outside the Denver Diner.
4 a.m.: Adam Tewahade (left) points as a woman smoking a cigarette tries to get her friend's attention inside the Denver Diner. Tewahade and Joe, across from him, met earlier in the night on Larimer Street.
5 a.m.: The sunrise from the Denver Diner.
6 a.m.: Heather Blanchet runs breakfast out to a table of three. Blanchet started at the Denver Diner on July 20, two days before her birthday.
Early morning at the Denver Diner.
7 a.m.: Mike Carter sits in a booth as he waits for another guest to arrive.
8 a.m: Brittany Graham checks on her son, nine-year-old Gabriel, while he watches a game on YouTube. Brittany has worked at the diner for five years.
9 a.m:. Pie slices by the cash register.
10 a.m.: Taya Hoy (left), Judy Wesman and Eric Hoy eat breakfast.
Sunlight shines through salt and pepper shakers on empty tables.
11 a.m.: Sterling, 3, is fed breakfast.
Noon: A waitress checks a guest out.